On 6 November 2022, the 27th UN Climate Change Conference (COP) started in the Egyptian city of Sharm El-Sheikh and ended after an extension on Sunday, 20 November. The assessments of whether COP27 was a success or a disaster varies. Some call it a success that, despite the difficult geopolitical circumstances, decisions of the previous COP26 in Glasgow have not been reversed. Others are disappointed that the announced "implementation COP" could hardly achieve increased ambitions or a joint effort to set the course towards the 1.5°C target. Both views are understandable. A meaningful assessment of the results of Sharm El-Sheikh requires a detailed and differentiated look at the increasingly complex and growing phenomenon of "COP".
Disappointing, but not a "lost" COP
From a development policy perspective, remarkable results have been achieved, not least the agreement on a fund for Loss and Damage (L&D), a key demand of many poor and particularly climate-affected countries. The agreement on a dedicated financial fund to compensate for losses and damages resulting from climate change was both long overdue and surprising. It was made possible especially by the EU's willingness to compromise and could become a game changer in multilateral climate policy. Although the concrete design of the instrument is still unclear, the issue of L&D has now become the third pillar of multilateral climate governance alongside mitigation of global greenhouse gas emissions and adaptation to unavoidable climate change. Without the prospect of financial support in the face of climate-related losses and damages, the climate policy engagement of middle- and low-income countries would decrease – moving the achievement of the Paris Agreements' goals even further away. Thus, the realisation of this necessity and the recognition of a historical responsibility for the heating of the atmosphere are invaluable means of regaining lost trust. This trust is essential for the progress of multilateral climate governance. The clear recommendation to the EU and its member states must therefore be to get involved quickly and constructively in the processes for operationalising and financing the fund.
In addition, COP27 has also set encouraging signals in some sectors that can now be built upon:
Renewable energies for the first time have been included in the final declaration, and new energy partnerships, such as the Just Energy Transition Partnerships (JETP) with Indonesia, offer promising approaches to the implementation of socially just climate protection policies in the energy sector.
Biodiversity and nature conservation, given their central importance for climate protection and adaptation, received increased attention, which is reflected, among other things, in concrete commitments to the protection of tropical forests and resolutions on further consideration of ocean and marine protection.
Agriculture and food security are anchored in international climate policy through the decision to continue the Koronivia Joint Work on Agriculture, which in turn is important for the avoidance of emissions and adaptation.
In spite of the disappointment over the lack of ambition in an overarching Mitigation Work Programme, such sectoral initiatives can provide concrete and implementation-oriented impulses on which development policy can be based on.
How can COPs improve concretely?
In order to make the UN Climate Change Conferences more implementation-oriented in the future, the COP is well advised to take sectoral dynamics more into account without losing sight of the systemic and intersectoral perspective. With corresponding priorities, a focus on its governance tasks and a stronger involvement of non-state and subnational actors, future COPs could indeed become "implementation COPs". Researchers from IDOS and the Wuppertal Institute for Climate, Environment and Energy already formulated concrete recommendations along five specific governance functions before the COP27.
Contribution of IDOS at COP27
Overview of all events with IDOS participation at COP27.
Nature-based solutions in cities
Together with the Dahdaleh Institute of Global Health Research, York University, Radboud University, the Zoological Society of London, the Society for Wildlife Research and Environmental Education (SPVS) and the Boticário Group, IDOS organised an official side event at COP 27 on 16 November 2022 titled "Bringing nature-based climate action into cities in challenging times".
Andrew Deneault (IDOS) presented results of a recent study on the effectiveness of non-state cooperative climate initiatives, published jointly with the New Climate Institute and Radboud University during COP27. The results show that international climate initiatives by non-state actors fall far short of their potential, with 80 per cent showing only moderate to no success.
The panel then discussed nature-based interventions in cities, such as re-greening, which can bring health, climate and nature benefits, including reducing overheating and decarbonisation. Case studies from Brazil were used to highlight, among other things, rights-based approaches, and business partnerships that can unlock resources.
Race 2 Resilience: Robust and accelerated climate action in non-state actors
The dramatic increase in climate change-related risks expected in the upcoming decades urgently requires resilient building to increase the ability of vulnerable communities to prepare for climate change impacts, and to more rapidly recover from events. While states are leading such efforts, they cannot do it alone. Non-state actors (such as businesses, NGOs, investors, subnational administrations, and other actors) have a key role to play. The Race to Resilience initiative, with the support of the UN, aims to promote non-state resilience measures.
These actions should, however, be accompanied by solid and measurable results. There is a need for better methodologies to understand the impact of resilience-building interventions and to generate learnings, which can guide best practices across multiple actors and scales.
In this session on 10 November, Race to Resilience presented its results framework for resilience actions. Sander Chan discussed Race to Resilience's approach, offering commentary and opportunities for improving the campaign.
The water-energy-climate nexus
On 14 November 2022, participants of the event "A just and equitable energy and water transition in a changing climate" at COP27 Water Pavilion discussed the often neglected role of water and water footprint in a just energy transition. "The technologies already exist for just transition, but political will, institutional ability and governance capacities are missing", moderator Aditi Mukherji from the International Water Management Institute entered the discussion.
Dr Ines Dombrowsky pointed out in her speech that technology alone will not solve the problem. Without tailor-made governance solutions, technology alone can even lead to unfavourable developments.  Referring to her research on groundwater overuse in Jordan, she pointed out the potentially negative impact of solar pumps. Once the investment is made to install solar pumps, the running costs are low. This makes solar pumps an attractive tool for local farmers. However, due to lack of regulations, it is seen that farmers tend to use solar pumps to extract more and more water, leading to overuse of the resource. Lack of regulations on power purchase agreements, in turn, prevents farmers from using "solar farming" as a reliable source of income. This is said in addition to the fact that the Jordanian electricity grid is not designed to accommodate feed-ins of solar energy.
Ines Dombrowsky concluded that more dialogue is needed between the Ministry of Water and the Ministry of Energy to overcome the challenges in managing the water-energy nexus, provide adequate infrastructure and formulate appropriate regulations together with stakeholders. The Water-Energy-Water Committee in Jordan can be an appropriate venue to address these challenges.
Climate mobility: networking science
On 15 November 2022, climate mobility researchers met for an informal networking event organised by the Global Center for Climate Mobility and the Africa Climate Mobility Initiative (ACMI). The session was facilitated by Dr Susan S. Ekoh (IDOS). Participants discussed current research activities, knowledge gaps filled by their research, including major challenges faced. Funding challenges emerged as a critical aspect and in particular, resource and finance gaps in African educational institutions were raised. Necessitating the need for increased funding allocations to this critical area of inquiry and towards scholars and institutions in vulnerable regions like Africa.
Climate risks and climate mobility in intermediate cities in Africa
On 16 November 2022, an expert panel convened to discuss climate risks and climate mobility in the context of intermediate cities in Africa. The session was moderated Dr. Susan S. Ekoh (IDOS). Panellists discussed ways of moving from crisis response to anticipatory approaches to address climate mobility in intermediate cities. According to Dr Abdullahi Khalif, Director of the Center of Excellence in Food Security and United Nations- University for Peace (UPEACE), adequate planning can yield positive outcomes with climate mobility.
Panellists also discussed the role of data to aid anticipatory action for intermediate cities. The recently launched Climate Mobility Data Portal by the Global Center for Climate Mobility (GCCM) was highlighted. The portal provides useful information on climate risks and climate mobility hotspots in Africa, including projections of people that are likely to move. Furthermore, panellists discussed strategies useful for building community resilience and current investment gaps.
Social protection for a just transition
A panel discussion on "Making the Transition Just: Protecting people, enabling participation through social protection" took place on 16 November 2022 at the COP27 Just Transition Pavilion. The event, organized by ILO with the support of the inter-agency Social Protection and Climate Change Working Group of the Universal Social Protection 2030 Initiative, focused on exploring synergies between social protection and labour market interventions in the context of developing and implementing national climate strategies in a just manner.
Dr. Mariya Aleksandrova (IDOS) highlighted the role of the financial mechanisms of the UNFCCC, especially of the Green Climate Fund (GCF), in supporting just transition for adaptation and mitigation through investment in social protection.
Non-state actors: faster, and stronger towards more ambitious NDCs
Since the adoption of the Paris Agreement, a myriad of actors including businesses, cities, and cooperative initiatives have committed to a low-carbon and resilient future, promising to narrow emissions and financing gaps, to accelerate implementation, and to spur ambition.
On 17 November 2022, the panel at COP27 EU Pavilion took stock of the efforts of these actors and discussed two new reports examining progress and impact, as well as opportunities of cooperative climate initiatives, and individual subnational and private sector actors to enhance NDCs and accelerate action across all sectors. Speakers Dr. Sander Chan (Radboud University), Sybrig Smit (NewClimate Institute), Mark Roelfsema (PBL Netherlands), Zhi Yi Yeo (Data Driven EnviroLab) and moderator Andrew Deneault (IDOS), pointed to the high reduction potential of these actions, but also to worrying trends in implementation. Currently, many non-governmental and cooperative initiatives do not deliver what they promise.
Human health and L&D in Africa
On 17 November 2022, IDOS and UNDRR Stakeholder Engagement Mechanism co-hosted an event at the COP27 Health Pavilion on "Human health and Loss and Damage in Africa: science, policy and finance as enablers of action" moderated by Dr. Mariya Aleksandrova (IDOS).
The panelists, Dr. Qudsia Huda (Head of Disaster Risk Management and Resilience at World Health Organization), Prof. Dr. Maarten van Aalst (Director of the International Red Cross Red Crescent Climate Centre), Ms. Mercy Grace Munduru (Head of Programs and Fundraising, ActionAid International Uganda), and Dr. Sri Hari Govind (Nadam Foundation), discussed the links between human health and (residual) loss and damage, and the changes needed to address Africa's regional challenges. These include strengthening policy coherence, investing in community empowerment and psychosocial support programmes, and increasing support in conflict and post-conflict situations.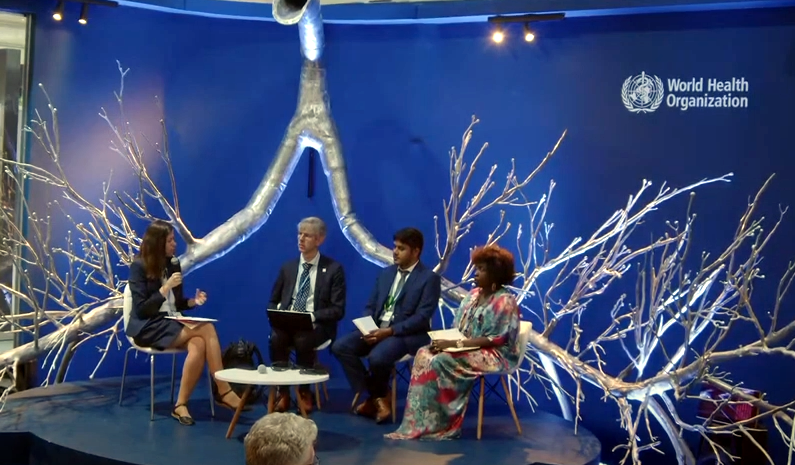 ©Mariya Aleksandrova, Dr. Mariya Aleksandrova (left) with panellists (from left) Prof. Dr. Maarten van Aalst (International Red Cross and Red Crescent Climate Centre), Dr. Sri Hari Govind (Nadam Foundation) and Mercy Grace Munduru (ActionAid International Uganda).
The G7's role in climate and health
On 17 November 2022, the Centre for Planetary Health Policy hosted a panel discussion on "From Elmau to COP27: The G7's role in climate and health" with moderator Sophie Gepp. Prof. Dr. Anna-Katharina Hornidge (IDOS) gave an insight into the German G7 Presidency, which had a clear focus on the sustainability agenda. However, with the Russian war on Ukraine, short-term needs in dealing with the existing multiple crises increasingly came to the fore of the German Presidency.
It was very important for the G7 to network with the G20 process and the international climate negotiations and to think about how different forums for transnational negotiations interact, e.g. in the areas of health or biodiversity. In addition, both the G7 and G20 committed to and reaffirmed the 1.5° target, and discussed partnerships such as Just Energy Transition Partnerships (JETPs). Anna-Katharina Hornidge gave for discussion that the G7's decision to create a global climate risk shield may have paved the way for the issue of loss and damage to be placed on the official agenda of COP27.
With regard to global health, the German Presidency focused on immediate, urgent needs with an emphasis on providing funding and support for Act-A's immunisation campaign in low- and middle-income countries. In addition, health sovereignty was strengthened by increasing local and regional production capacities for vaccines in developing countries.
Climate Governance towards net zero and resilience
On 17 November 2022, the Real Instituto Elcano and moderator Lara Lázaro Touza hosted a panel discussion on "Climate governance towards net zero and resilience: strengthening cooperation between Latin America and Spain in the current context".
Dr Ines Dombrowsky traced the EU's current policy-making in the wake of the numerous crises facing the world and Europe. Even though these crises have demanded a great deal of attention, capacity and financial resources, the EU has committed itself to doing more to combat climate change. Ines Dombrowsky discussed, among other things, new measures developed and adopted under the EU Green Deal.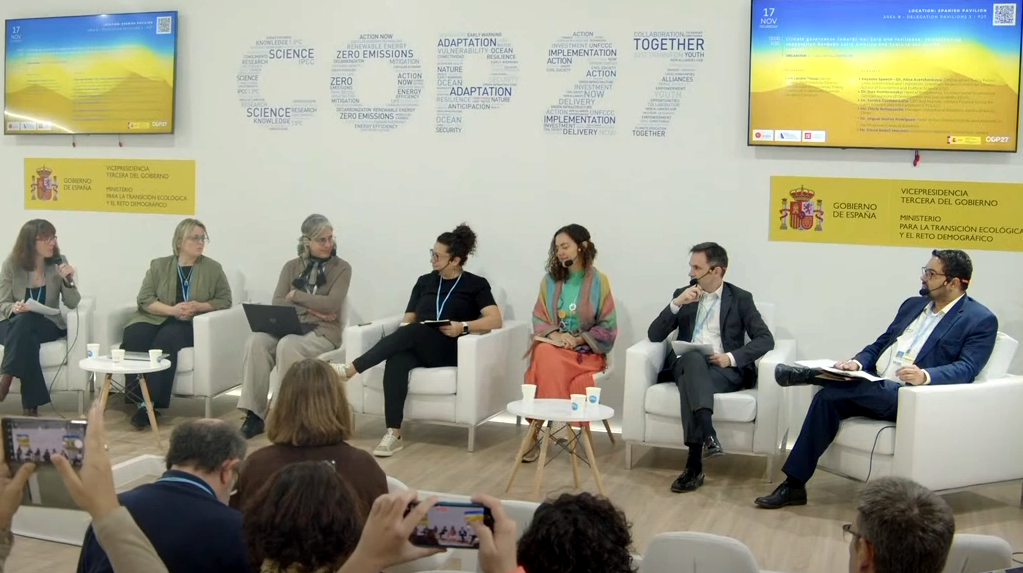 ©Ines Dombrowsky, Panel in the Spain Pavilion with Dr. Ines Dombrowsky (IDOS) (3rd from left) and others
Further contributions:
Methodological workshops and datathons

How adaptation and resilience measures can be measured, monitored and evaluated

Networking events for scientists, non-governmental organisations and researchers in the field of climate policy and climate governance