Water resources are finally getting more attention at the global level. IDOS' water team strongly supports this trend and shared its expertise on water governance in the context of the first UN water conference in 46 years, which took place in New York from 22-24 March.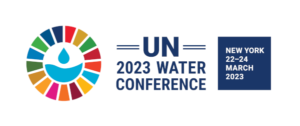 As a kick-off to this series of events, Dr Ines Dombrowsky, Dr Annabelle Houdret and Prof. Olcay Ünver (Arizona State University and member of the Water Policy Group) published their appeal to the decision-makers of the UN 2023 water conference in the Current Column The UN Water conference – time to govern water as a global commons!. Ines Dombrowsky and Dr Srinivasa Srigiri joined the UN conference as members of the German government delegation. In their keynote at the side-event Turning the tide on the freshwater biodiversity crisis, Srinivasa Srigiri and Dr Jean-Carlo Rodriguez highlighted the importance of the rights of the indigenous peoples and local communities (IPLCs) for sustaining freshwater ecosystems.
IDOS was also involved in two initiatives presented at the conference: Srinivasa Srigiri supported FAO's Global Dialogue on Water Tenure for Food Security, Climate Adaptation and Social Inclusion, Annabelle Houdret contributed to developing the Intergovernmental Science-Policy Platform for Water Sustainability (ISPWAS), a game-changer initiative led by UNESCO and the Global Water Systems Project. In her capacity as speaker of the BonnWaterNetwork, she highlighted the importance of network approaches for knowledge-sharing and joint action at the Symposium 2023 for the Eurodelta region. In her interview with Deutsche Welle, she also insisted on key steps to improve safe water provision in Africa. On the occasion of World Water Day on 22 March, Mirja Schoderer and Jean-Carlo Rodriguez published a Current Column to lay out why the focus of this year's World Water Day on individual action is insufficient to accelerate change.